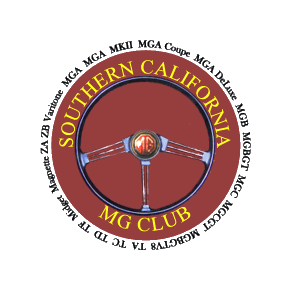 Member's Gallery
Page 3
SCMGC Members are invited to send a photo (or two) of their MG or other classic British motor for posting to this page. Please include a brief description with each pic. Send to the webmaster
Our 1953 MG YB Saloon - One of about 50 remaining in the world, this car is one of five built on the last day of production. The only one of the five still surviving, it is the youngest pre-war MG saloon car in existence. There are 77,000 original and documented miles on the odometer.
We brought the car back into use after purchasing it from the second owner, who bought it in England in the 1970's. After touring the country in it, he brought the car to Canada where it was stored unused for twenty years. Original and unrestored, this car still retains its maintenance log book with every repair made logged inside. It also wears its original British number plates.
It gets a lot of attention wherever it goes, and understandably so. There are very few Y-Types left and only a small portion of those are the later YB model. This one is the only YB in Southern California . We plan to keep the car original and unrestored as much as possible. Driving is so much more fun than restoring anyway!
1965 MGB Roadster - Originally purchased by my grandfather in 1966, this MGB was passed on to my father in the 1970's. My young siblings and I nicknamed it "The Flying Raisin" because it was small, black, wrinkled from dents and it "flew". For my 16th birthday my father reluctantly gave into my nagging and gave me the car which was now falling apart from age and well over 200,000 miles of daily driving. I partially restored the car and put many, many more miles on it. Years later, my car had been sitting unused for a few years when I didn't have time to work on it. One day my girlfriend and I had a thought... wouldn't it be fun to drive off from our wedding in that car some day? Years past, we got engaged, and less than two weeks before our wedding I remembered that passing thought. I decided to attempt what seemed impossible - to get the car in wedding shape before the big day! The car still needed to be stripped, bodywork and rust repair done and repainted. There were many mechanical and interior projects to complete as well. Undaunted, I committed to the task at hand. I worked on the car day and night whenever I could. On the morning of our wedding with just two hours before the ceremony I had a wrench in my hand, still installing exterior parts. I made it, and we drove away from our wedding in the car as we had hoped to years earlier. I did feel a bit funny though when I had to drive the car to the ceremony by myself... with a huge "Just Married" sign on the back! The car now has well over 300,000 miles on it and still puts a smile on my face every day! Who says you can't look forward to your commute to work?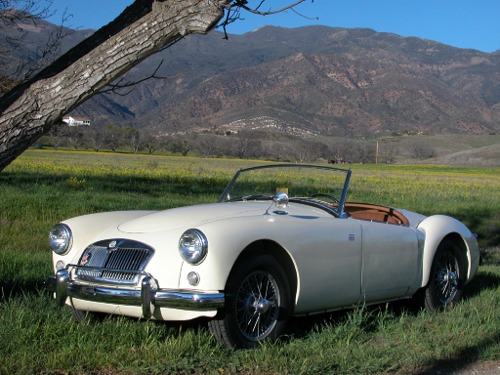 1958 MGA Roadster - I had always wanted one of these cars but never thought I would own one. I showed my wife a photo of an MGA for sale one day and she gasped in awe. Seizing the opportunity, I said we could buy "her" one. It worked! This car was completely restored by a retired US Air Force aircraft engineer, then bought by a friend of his. With only 700 miles on the restoration he sold it to us for a great price. We enjoy Sunday drives in this car more often than any of the others. It has such a wonderful blend of performance and vintage feel. And you can't beat the looks of an MGA! Steve & Linda Simmons
Send in your Stuff!
---
---
---